In the second part of our blog post, we will continue our journey in the world of beer and food pairing. This time we are focusing on providing you with more specific tools which you can use when searching for a beer to combine with your food.
Guidelines to pairing beer with food
So how do we go about pairing beer with food? While there is no right answer to this question (and there shouldn't be!), some commonly used guidelines can ease the process of determining the best pairing.
A good place to start is to think about the preparation methods used to make the dish. Methods such as smoking, grilling, boiling and roasting all give very characteristic flavor profiles to a dish which can match perfectly with certain craft beer styles (for example stouts with roasty flavors). In addition, being mindful of any spices, marinades or sauces present in our meal is also important as they can affect the overall acidity, sweetness and spiciness of the dish. Accounting for the strength of each of these characteristics will lead us to a better beer selection.
The simplest approach is to match the intensity of the beer to the intensity of the meal. Dishes soft or mild in flavor can be paired with lighter beers, whereas strongly flavored dishes more readily match with assertive beers such as stouts. Intensity in beer is derived from various characteristics, such as its ABV%, malt profile, hop impact, sweetness, body and acidity (check Part 1 of our blog post for more details).
Another way to achieve a great beer-food pairing is by following three main interactions: complementing, contrasting and cutting, and deciding which one works best for our meal pairing.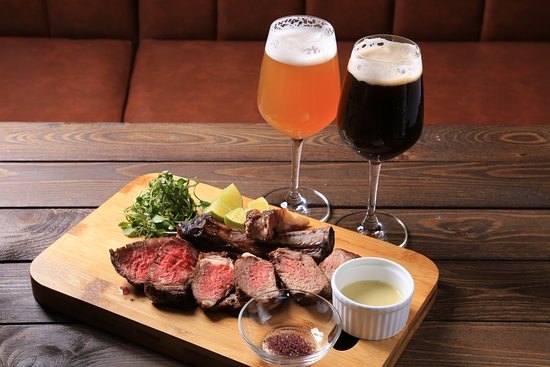 Complementary Pairing
The idea behind complementary pairing is to bridge and achieve harmony between the flavors found in the dish and those in the beer.
We can identify flavors in the dish which we want to emphasize and look for a beer which shares those flavors or ingredients. For example, pairing a roasted malt-forward porter with roasted meat.
Conversely, if we feel that the food plate is missing a certain flavor which can be added through a beer without overwhelming the dish's taste, then complementary pairing can help us achieve this.
Contrast Pairing
In this case, we can use the beer to de-emphasize (suppress) certain flavors in the dish or bring other flavors into balance (enhance). Sweet versus sour, or sweet versus bitter are common dominant flavors in contrasting pairings.
A really acidic or spicy dish can be balanced by a sweet beer.
A bitter IPA can introduce palatability to an overwhelmingly rich and sweet dessert.
Cutting
The beer we select can take the role of cleansing the flavors from the dish and restoring our palate to a neutral state, priming it for the next bite. Beer is excellent for cutting strong flavors in dishes, because of its characteristics.
The bitter strength of hops can strip fat off the palate.
A sweet beer can mellow out acidity in our food.
A beer's carbonation cuts through fat and spice and stabilizes overly rich flavors, scrubbing the palate.
Pairing Shockwave Pale Ale
Shockwave is an American Pale Ale, characterized by a refreshing taste and rich aromas. The complex malt profile of Shockwave is a result of the 4 different malts we use and is accompanied by a slight bitterness and intense, hop-derived aromas. These characteristics make it a perfect pairing for pizza and Mexican dishes like tacos, quesadillas, burritos, fajitas and enchiladas. The bitterness from hops complements the spices and can cut through fatty, cheesy flavors, as well as through the avocado and sour cream. We tried most of these combinations ourselves, so you can take our word for it!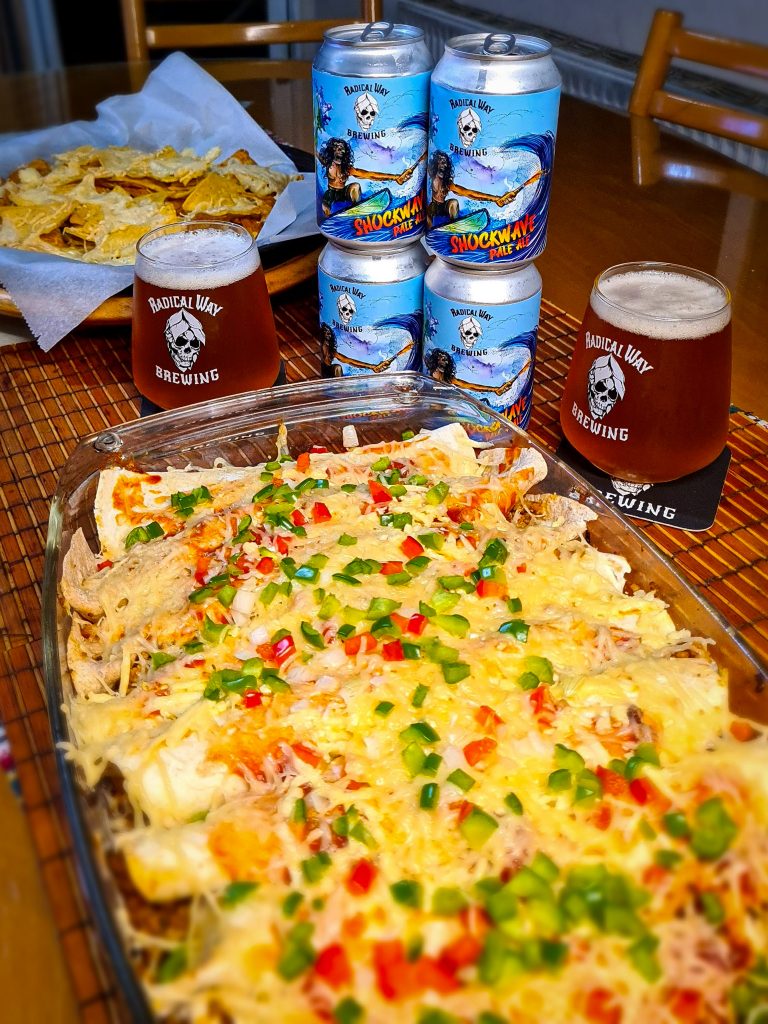 Break the rules!
We want to emphasize that these are not rules, but guidelines. The fun part of pairing beer with food is experimentation, and you should always choose beers and dishes which you enjoy. Everyone experiences flavors differently and has different preferences, so the most important part is the journey of finding the best pairings which work for you!
In addition, no beer or alcoholic beverage can "save" a dish that you don't enjoy, and vice versa. Take some time to establish which beers you enjoy and identify what elements you like about them (e.g. sweetness, maltiness and bitterness) and in what degrees. Once you identify which element you want to complement, contrast, or cut in a dish, selecting a beer to achieve that will be easier!
The world of beer and food doesn't end here
In this series of blog posts, we explored the influence of a beer's different attributes (such as its body, carbonation, etc.) on its taste and how these characteristics can be leveraged to achieve a great pairing with food. We also looked at how beer is establishing its value as a terrific pairing beverage to food. Its complex and rich flavors as well as the variety in its styles and ingredients make beer an ideal companion to dishes from all cuisines and tastes.
Given the current situation, a lot of us have some spare time on our hands to try our skills in the kitchen or to sample new dishes. Next time you find yourself wondering how to take your meal to the next level, grab one of your favourite beers! Using the tips presented in this blog post and keeping your preferences and curiosity as a priority, you will definitely come up with some great combinations of your own!
Of course, the interaction of beer and food isn't only limited to pairing. Beer can also be directly used in cooking. Watch this space as this could be a future blog post topic!
If you have an interest in the subject of beer and food pairing and are wondering where you can find additional resources to learn more about it, we recommend the books listed below:
The Craft Beer Kitchen: A Fresh and Creative Approach to Cooking with Beer by Cooper Brunk (2015)
The Brewmaster's Table: Discovering the Pleasures of Real Beer with Real Food by Garrett Oliver (2005)
Beer Pairing: The Essential Guide from the Pairing Pros by Julia Herz (2015)
P.S.: Send us your own photos where you paired Shockwave with your food @radicalwaybrewing!